Media
Intematix Unveils ChromaLit™: The Only Remote Phosphor Light Source Solution Set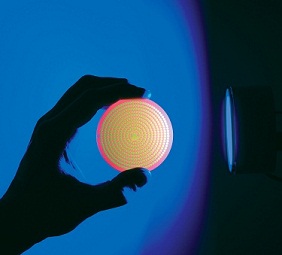 Intematix, a leading innovator of patented phosphors for high-quality LEDs, today introduced ChromaLitTM, the groundbreaking family of remote phosphor light source solutions. ChromaLit is now generally available to LED luminaire and lighting module manufacturers, providing unparalleled design freedom, more efficient manufacturing processes, exceptional light quality and up to 30 percent higher system efficacy.
The ChromaLit collection implements precision optics manufacturing and Intematix's cutting-edge phosphor technology to provide lighting manufacturers with the capability to create previously unimaginable lighting systems in any shape and any color. ChromaLit products are customizable in geometry, color temperature, CRI and substrate material, offering flexibility and creative opportunities never before seen in luminaires. Uniform, curvilinear and three-dimensional lighting designs are now made possible where challenges existed with conventional LED approaches.
"By separating the phosphor from the chip, Intematix has created a customizable lighting solution of the highest quality, an innovation destined to disrupt the lighting industry," said Mark Swoboda, CEO of Intematix. "ChromaLit is the natural culmination of Intematix's dedication to materials discovery and phosphor expertise, designating the phosphor as the arbiter of light quality."
Compared to conventional LED designs, where blue chips are coated with a phosphor compound, ChromaLit leverages a phosphor composite precisely layered onto a substrate, separated from the blue LED energy source. This new technique allows lighting system manufacturers to keep the phosphor performance stable over the module's lifetime and design color-consistent, uniform luminaires. In applications such as retail and hospitality lighting where color consistency is as challenging as it is critical, ChromaLit creates uniform, high-quality, diffuse light throughout the space.
"Our ChromaLit light sources add great momentum to the conversion of general lighting to solid state," said Julian Carey, director of product marketing at Intematix. "We offer the critical link that enables our customers to achieve the efficacy and reliability benefits of LED lighting while overcoming the challenges historically posed by LED architectures. Now, solid-state luminaires can have phenomenal design freedom, streamlined production and glare-free, consistent light."
Additionally, luminaire manufacturers now have the option of interchangeable ChromaLit light sources. This enables manufacturers to simplify LED binning management and reduce inventory. A blue LED energy supply unit can be stocked, along with compact and easily swappable ChromaLit light sources instead of many individual completed luminaires.
Since it operates at a lower temperature and maximizes photon extraction, the ChromaLit architecture produces significantly more light per input power. In addition, ChromaLit eliminates the necessity of a diffuser and provides up to 30 percent higher system efficacy than conventional LED lighting systems, both in white illumination and in colored specialty lighting applications like signs and signals.
Intematix has launched ChromaLit product options targeted at general lighting applications and has additional products in development. Technical data and samples are available on request. For more information please contact [email protected] or visit www.intematix.com/chromalit.
About Intematix Corporation
Intematix Corporation is a materials development innovator, providing customizable, patented phosphors that serve as the foundation for high quality, energy efficient LED light. Intematix products enable attractive, vivid color quality, superior consistency, uniformity and stability. Headquartered in Fremont, California, Intematix maintains R&D, manufacturing, business and support operations in the United States, Asia and Europe. To learn more about the company, please visit www.intematix.com