Media
Intematix to Showcase New Remote Phosphor Technologies at LightFair International in Philadelphia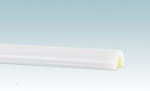 FREMONT, Calif., April 22, 2013 – Intematix Corporation, a leading innovator of patented phosphors and phosphor components for high-quality LED lighting, today announced the company will showcase two new remote phosphor technologies at LightFair International at the Pennsylvania Convention Center from April 23-25. These new innovations compliment the current ChromaLit product families and expand the market opportunity for low cost energy efficient lighting enabled by remote phosphor technology.
Intematix remote phosphors convert light from blue LEDs into white light with up to 30 percent higher efficacy than conventional white LEDs.  As a consequence of increased efficacy, the Intematix ChromaLit remote phosphor lowers costs for lighting systems by reducing the number of LEDs and other components required as well as power costs.
The first product to be demonstrated is ChromaLit 360XT, a new high performance 3-dimensional remote phosphor component that enables low cost Energy Star compliant retrofit lamps with a conventional lamp look and feel.  This next generation filament for solid state lighting is capable of delivering the 300 degree beam pattern necessary to comply with regulatory standards and deliver the emission pattern of a typical incandescent light bulb. When designed into a retrofit lamp with a globe diffuser, ChromaLit 360XT enables a conventional lamp appearance to enhance consumer appeal.
Intematix will also showcase the new ChromaLit Linear product, delivering low cost high efficacy diffuse lighting for linear lighting in commercial, office and industrial lighting applications.  Combining the benefits of remote phosphor with a unique delivery system, ChromaLit Linear delivers uniform, glare free, color consistent lighting with the additional benefit of a clean and familiar off-state white appearance.  The ultra slim form factor of ChromaLit Linear will also open new design possibilities for sleek and innovative lighting fixture designs.
"As the leader in remote phosphor technology, we are proud to announce our latest technical innovations during LightFair," states Jason Posselt, Senior Director of Product Management, ChromaLit at Intematix. "These two new products expand the ChromaLit product family to five product lines, now capable of delivering the benefits of remote phosphor to nearly all lighting applications to further accelerate the transition to solid state lighting."
To experience these new technologies along with the rest of the ChromaLit product family, please visit Intematix at booth #2559 during LIGHTFAIR International at the Pennsylvania Convention Center from April 23-25, 2013.
About Intematix
Intematix Corporation is a materials development innovator, providing patented phosphors and remote phosphor components that serve as the foundation for cost-effective, high quality and energy efficient LED light. Intematix products enable attractive, vivid color quality, superior consistency, uniformity, and stability. Headquartered in Fremont, California, Intematix maintains operations in the United States, Asia and Europe. To learn more about the company, please visit www.intematix.com.