Media
Feit Electric in Collaboration with Intematix Introduces Low Cost 100W LED Light Bulb - Now Available at Lowe's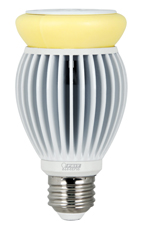 FREMONT, Calif., April 4, 2013 – Intematix Corporation, a leading innovator of patented phosphors and remote phosphor components and Feit Electric a leading manufacturer of lighting products, announced today a 100-watt equivalent LED light bulb is now available in all Lowe's stores nationwide and on Lowes.com for under $35.  This new Utilitech PRO product follows the January 2013 launch of a 75-watt equivalent LED light bulb available at Lowe's for less than $25. The Utilitech PRO LED bulbs, produced by Feit Electric, feature Intematix's ChromaLit™ remote phosphor technology.
"We're breaking new ground with these LED bulbs, which are built around our ChromaLit™ remote phosphor product," said Mark Swoboda, Chief Executive Officer of Intematix. "Price has been a major barrier to LED adoption, and our technology has enabled a significant reduction in cost from comparable products on the market without sacrificing performance."
"The energy conscious consumer demands a low cost, highly efficient LED bulb. At Feit Electric we are proud that through collaboration with Intematix and Lowe's, we are delivering on these demands," states Alan Feit, Executive Vice President of Feit Electric. "Because of the natural and considerable energy savings realized through the use of remote phosphor, this launch furthers our commitment to providing energy efficient light solutions for the consumer and overall lighting market."
The Utilitech PRO 100W LED bulb features include:
300 degree lighting distribution
Light output (1600 lumens) with only 22 watts of energy, or 78 percent less energy
3000K warm white color temperature
Bulb life of 22 years (based on 3 hours per day)
Dimmable
Mercury Free
For more information visit www.lowes.com. For more information about Feit Electric please contact [email protected] or visit their website at www.feit.com.
For more information about Intematix's ChromaLit remote phosphor, please contact [email protected] or visit www.intematix.com/chromalit.
About Intematix ChromaLit
Intematix ChromaLit-based remote phosphor architecture offers lighting designers the potential to create the lowest cost and highest efficacy LED lighting systems in most applications. This potential is based on the ability of manufacturers to use fewer LED light engines, for the same output of light due to the unique properties of the remote phosphor. Intematix remote phosphor technology also offers omnidirectional diffuse light, high color rendering and consistent light quality, all elements crucial in both residential and commercial lighting.
About Intematix
Intematix Corporation is a materials development innovator, providing patented phosphors and remote phosphor components that serve as the foundation for cost-effective, high quality and energy efficient LED light. Intematix products enable attractive, vivid color quality, superior consistency, uniformity, and stability. Headquartered in Fremont, California, Intematix maintains R&D, manufacturing, business and support operations in the United States, Asia and Europe. To learn more about the company, please visit www.intematix.com.