Media
Intematix Enhances Remote Phosphor Performance by 10%, Lowers LED Lighting Costs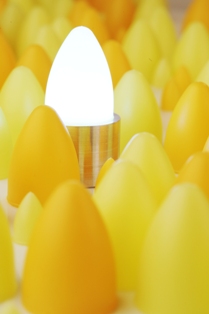 FREMONT, Calif., – Intematix, a leading innovator of patented phosphors and phosphor components for high-quality LED lighting, today announced performance improvements in its ChromaLit™ Ellipse, Candle and Dome remote phosphor products. The enhancements reflect Intematix's continuous advancements in remote phosphor technology resulting in an average ten percent increase in light output and reduced system cost for lighting system manufacturers.
"Higher lumens-per-watt means fewer LEDs and smaller heat-sinks in our customers' products," said Herb Schlegel, Senior Director of Product Marketing at Intematix. "While lowering costs, our ChromaLit Candle and Dome products also improve light quality and uniformity in applications like light bulbs, pendants and sconces."
Intematix remote phosphors convert light from blue LEDs into white light with up to 30 percent higher efficacy than conventional white LEDs. ChromaLit products deliver up to 225 lumens per blue radiant watt while enabling very high light quality including low glare, CRI above 95 and color consistency within 2 SDCM.
ChromaLit 360 products are now available through Intematix sales and distribution partners Future Lighting Solutions, Arrow Electronics and Digi-Key Corporation.  For more information, please contact your sales person or visit www.intematix.com.