Media
PRG Launches TruColor HS for Next-Gen Film and TV Lighting with Intematix ChromaLit Technology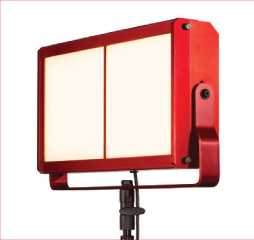 ChromaLit™ Remote Phosphor Eliminates Color-Accuracy Limitations of Conventional LED Light Fixtures
Fremont, California — April 17, 2012— Intematix Corporation, a leading innovator of patented phosphors and phosphor components for high-quality LED lighting, with Production Resource Group, L.L.C., (PRG), the world's leading entertainment lighting company, today announced the offering of a long sought after film and television lighting solution. Intematix's ChromaLit™ remote phosphor creates precision spectral quality in PRG's new TruColor™ HS, a digital soft source light fixture.
TruColor HS utilizes ChromaLit to deliver a nearly continuous wavelength spectrum that eliminates the color-accuracy limitations inherent in many LED fixtures. PRG's latest offering features Intematix ChromaLit Panels customized to meet the high standards for motion picture and broadcast lighting.  The interchangeable panels deliver 96 CRI at 3200K and 90 CRI at 5200K, allowing users to achieve both daylight and tungsten with a single fixture.  ChromaLit makes lighting better using a phosphor composite substrate separated from the blue LEDs. This architecture increases system efficacy by up to 30 percent compared with conventional white LEDs, which enables a single TruColor HS to produce a remarkable 20,000 lumens.
"PRG's TruColor HS light fixture showcases a stunning and functional implementation of ChromaLit," said Julian Carey, senior director of marketing at Intematix. "Working with PRG, we get to see the light quality and efficacy advantages of our product come to life in an exacting new application."
"Our customers are demanding improvements in digital lighting," said Rich Pierceall, PRG's Director of Digital Lighting Sales. "With ChromaLit, we have been impressed at every stage of the development process by the high quality of light we are able to achieve.  Intematix's ChromaLit technology creates better color consistency and higher output in lighting fixtures designed for image capture."
PRG's TruColor HS will be on display at the National Association of Broadcasters (NAB) Show in Las Vegas from April 16th – 19th.  For additional information and pricing, please visit PRGTruColor.com.
To learn more about ChromaLit, visit Intematix.com.  ChromaLit will be on display at Light + Building in Frankfurt, Germany from April 15th - 20th and LIGHTFAIR in Las Vegas from May 9th – 11th.
About Intematix
Intematix Corporation is a materials development innovator, providing customizable, patented phosphors and remote phosphor components that serve as the foundation for high quality, energy efficient LED light. Intematix products enable attractive, vivid color quality, superior consistency, uniformity, and stability. Headquartered in Fremont, California, Intematix maintains R&D, manufacturing, business and support operations in the United States, Asia and Europe. To learn more about the company, please visit www.intematix.com.
About Production Resource Group
Production Resource Group, L.L.C., (PRG) is the world's leading supplier of entertainment and event technology to a wide range of markets, including corporate and automotive events, concerts, special events, theatre, television and film, trade shows, and installations, such as theme parks, museums, retail stores and performing arts centers. PRG provides integrated services and equipment, including audio, video, lighting, rigging, staging, and scenery and automation systems, for these markets from more than 40 offices in North America, South America, Europe, Africa, Asia and Australia. For more information about PRG, please visit www.prg.com.
*ChromaLit is a trademark of Intematix Corporation.