Media
Intematix Unveils ChromaLit Remote Phosphor Solution for LED Light Bulbs and Consumer Lighting Applications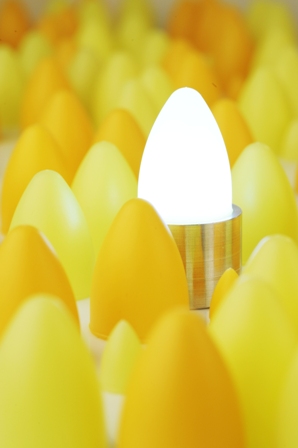 New core, sphere and candle shapes to illuminate LED bulbs and innovative fixtures at LIGHTFAIR International 2011
FREMONT, CA – May 12, 2011 – Intematix, a leading innovator of patented phosphors and phosphor components for high-quality LED lighting, today announced three-dimensional additions to its ChromaLit™ Collection. The new forms and light output levels improve the quality of light from LED bulbs, lamps and innovative fixture designs. The latest ChromaLit technology will be on display at LIGHTFAIR International 2011, the world's largest annual architectural and commercial lighting trade show and conference, May 17-19 in Philadelphia, PA.
"Our newest ChromaLit products offer almost 360 degree light distribution, effectively serving as the core of the next generation LED light bulb," said Julian Carey, Intematix Director of Marketing. "In the past, bulb designs have presented challenges to LED lighting designers. Our latest remote phosphor solutions accelerate the development of products with high light quality, high efficacy and smooth and broad radiation patterns needed by the marketplace."
Compared to conventional LED designs, where blue chips are coated with a phosphor compound, the ChromaLit Collection leverages a phosphor composite separated from the blue LED energy source. The latest ChromaLit products employ compound optical forms and offer a choice of wide radiation patterns ideal for bulb, pendant, lantern, decorative and other lighting applications. Additional benefits include:
High color quality and color consistency
Glare-free LED bulb and fixture design
Unprecedented design freedom for solid-state lighting
Streamlined supply and production of LED lighting systems
Up to 30 percent higher system efficacy compared to conventional LED lighting designs
Improved thermal performance
Customizable shape, size and color
Intematix will be showcasing the ChromaLit Collection and also introducing its new corporate image at LIGHTFAIR International 2011, May 17-19 at Booth #700 in the Pennsylvania Convention Center in Philadelphia, PA.
For more information, please visit www.intematix.com.
About Intematix
Intematix Corporation is a materials development innovator, providing customizable, patented phosphors and phosphor components that serve as the foundation for high quality, energy efficient LED light. Intematix products enable attractive, vivid color quality, superior consistency, uniformity and stability. Headquartered in Fremont, California, Intematix maintains R&D, manufacturing, business and support operations in the United States, Asia and Europe. To learn more about the company, please visit www.intematix.com.